At its recent General Assembly in France, IFIP awarded five Fellowships to IFIP members who have served above and beyond the call of duty, distinguishing themselves in their diverse fields of expertise.
Congratulations to K. Rustan M. Leino, Helen Petrie, Hans Jochen Scholl, Li Da Xu and Pamela Zave on achieving this highly prestigious status.
K. Rustan M. Leino – Current Chair of IFIP WG 2.3
The thrust of Dr. K. Rustan M. Leino's research lies in bringing formal program verification into software engineering practice. His research output includes the lightweight verification tools ESC/Java and Spec#, the Houdini algorithm for inferring specifications, the intermediate verification language Boogie for building verification tools and the verification-aware programming language Dafny, which is used in teaching, research and industrial applications. 
Leino has been a software engineer and researcher at DEC/Compaq and Microsoft, a visiting professor at Imperial College London, and is currently an applied scientist at Amazon Web Services. He received his PhD in computer science from Caltech in 1995 and across his career, he has mentored 35 research interns. 
Leino has been an active member of IFIP WG 2.3 "Programming Methodology" for more than 20 years, serving as secretary for nine years, vice chair for six years, and chair (2020-present).
Helen Petrie – Current Chair of IFIP WG 13.3 and Vice Chair of TC13
Helen Petrie is Professor Emerita of Human-Computer Interaction in the Department of Computer Science at the University of York. 
With degrees in both psychology and computer science, her research focuses on the design and evaluation of new technologies, particularly for people with disabilities and older people. She has particularly addressed the needs of people who are blind and partially sighted, but she has also worked with people with dyslexia, mobility problem and people who are Deaf or deafened. 
She has been involved in over 30 British and international projects in this area, has published widely and consulted to government and industry on accessibility and usability of new technologies. Petrie led a team commissioned by the Disability Rights Commission of Great Britain which conducted the largest study in the world of web accessibility for people with disabilities, and emphasised the importance of user testing in this area. 
She has been active in IFIP for many years, particularly in TC 13 (Human Computer Interaction). She is a long-time member of WG 13.3 (Human Computer Interaction, Disability and Aging) for which she is currently Chair, and she is currently Vice Chair for Media and Communication for TC 13.  She has twice been Full Papers Co-Chair for INTERACT, the biennial conference of TC 13 and is General Co-Chair for INTERACT 2023, which will be held in York (interact.2023.org). She is also active in the British Computer Society (BCS) and is Editor of the BCS journal, Interacting with Computers.
Hans Jochen Scholl – Former Chair and current Member of IFIP WG 8.5 & member of WG 5.15
Hans Jochen Scholl is a tenured Professor in the Information School at the University of Washington, Seattle, WA. He earned a PhD in Information Science from the University at Albany, State University of New York and also holds a Master's degree in Business Administration from the GSBA Zurich, Switzerland. 
Since the late 1990s, his research interests have focused on the "information perspective" for understanding human-originated complex systems. In his studies, he has employed quantitative and qualitative approaches ranging from System Dynamics to Situational Action Analysis and Action Research among other methods leading to almost 200 peer-reviewed publications. Particular areas of study have included Digital Government, disaster studies (Disaster Information Management), information artifact evaluation and pro sports information management. 
Jochen Scholl is a past president of the Digital Government Society, of which he was also a founding member. For many years, he served in various capacities including as Chair of IFIP WG 8.5 (IS and Public Administration). He also is a member of the IFIP WG 5.15 (Information Technology in Disaster Risk Reduction). As a Board Member he is engaged in the ISCRAM organisation. With a team of graduate assistants, he maintains and semi-annually publishes updates of both the Digital Government Reference Library (DGRL) and the Disaster Information Reference Library (DIRL). For almost two decades (until 2020) he served as founding chair and later as co-chair of the Digital Government Track at HICSS. His professional engagement also includes Associate Editorships and Editorial Board Memberships with a number of leading journals.
Professor School said: "The IFIP Fellowship represents a very special honour in any academic career. The Federation is an academic institution of considerable global weight, reach and importance. In my case, the IFIP Fellowship recognises consistent high-quality contributions to and strong impact on the development of two fields, Digital Government and Disaster Information Management, as they are represented in the IFIP working groups 8.5 and 5.15, in which I have served for many years in various capacities. I feel humbled by the wonderful recognition of my contributions by my colleagues."
Li Da Xu – Current Chair of IFIP WG 8.12 and former Chair of WG 8.9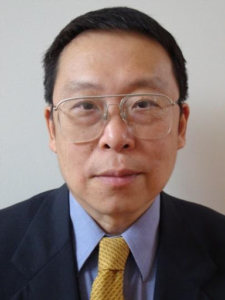 Li Da Xu is an IEEE Fellow and academic of the European Academy of Sciences. He is a 2016-2021 Highly Cited Researcher in the field of engineering named by Clarivate Analytics (formerly Thomson Reuters Intellectual Property & Science). 
Dr Xu is the founding chair of both WG 8.9 and WG 8.12. He has played a significant role in helping provide a forum for international collaboration and knowledge dissemination since 2005. Working with WG8.9 and WG8.12, he collaborated with scholars worldwide and served as conference organiser of a total of 20 WG 8.9 and WG 8.12 conferences held in Europe, Asia, Oceania, the Middle East and online. He is the founding editor-in-chief of Enterprise Information Systems and the Journal of Industrial Information Integration. 
Pamela Zave – Former Chair and current Member of IFIP WG 2.3
Pamela Zave received a Bachelor degree in English from Cornell University and a PhD in Computer Sciences from the University of Wisconsin, Madison.  She was on the faculty of the University of Maryland, spent 36 years in the research divisions of Bell Labs and AT&T Labs and is now with the Computer Science Department of Princeton University.
Throughout her career, she has carried out interdisciplinary research at the intersection of formal methods and networking.  Her work on the foundations of requirements engineering has been recognised with three Ten-Year Most Influential Paper awards.  At AT&T, she led a group that developed
two successful large-scale telecommunication systems based on her Distributed Feature Composition architecture, one of them AT&T's first public voice-over-IP offering.  She has written a soon-to-be-published book on the architecture of the Internet and is now working on verification of packet-processing hardware.
Dr Zave is an ACM Fellow, an AT&T Fellow and the 2017 recipient of the IEEE Harlan D. Mills Award for the development of sound software-engineering theory and sustained, impactful applications to practice.  In addition to her many research publications, she holds 33 patents and has received an AT&T Strategic Patent Award.
From 2006 to 2014, Dr Zave served as Chair of IFIP WG 2.3 on Programming Methodology.